isolved Touch Clock
Take your time collection to the next level with a user-friendly, touch-screen device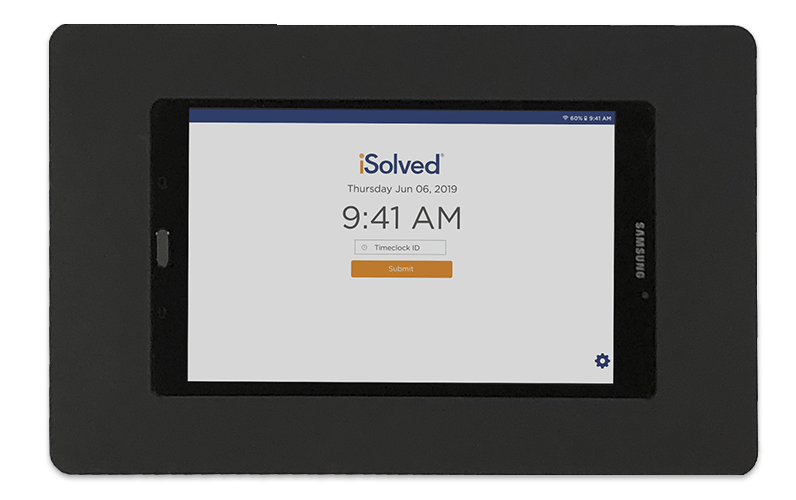 The Touch Clock from isolved is designed to simplify how your organization collects and manages employee time. This advanced clock uses a tablet, powered by Samsung, that looks and feels familiar to your employees. The eight-inch touch-screen is easy to use, allowing multiple employees to clock in and out for their shifts.
Overview
With the Touch Clock, all employee time data is sent directly to the isolved human capital management platform via a seamless API integration. You can use this data to process accurate payroll or track who may be missing punches.
Touch Clock Features:
Touch Screen

8-inch, full-color, touch screen tablet-based clock, powered by Samsung and Android OS

Mountable

Wall mount or surface mount for use in any workplace

Wireless Ethernet (WiFi)

WiFi-only connection

isolved API

Seamless API integration with isolved

Powerful

Quad-core 1.4 GHz processor – Qualcomm APIQ8017

Long-life

Li-ion 5000 mAh battery
Capabilities
Employee Capabilities
View profile picture when clocking in and out
Easily punch in and out for shifts, breaks, and meals
View historical punches (the clock saves punches for up to 45 days, unless they are manually cleared)
Supervisor Capabilities
Ensure compliance with meal and break laws and restrictions or company policies
Override break and meal punches
Input missing punches
From time-punch to paycheck, isolved Time is the solution you've been looking for.