The NXG G2+ offers true plug-and-play functionality, superior flexibility, and advanced features, creating the new standard for time tracking.
NXG G2+ Time Clock Features
Time clocks should make collection of attendance and labor data easy, not create more work. The NXG G2+ does exactly that with an engaging and intuitive user interface, full color capacitive touch screen and touch keypad. The NXG G2+ is one of the biometric time clocks, which can eliminate buddy punching.
The NXG is the next generation in robust and flexible time collection with true plug and play installation.
The NXG G2+ automatically downloads configuration profiles, employee tables and validation lists. On Demand real-time architecture immediately sends attendance and labor data to iSolved Time while ensuring the NXG G2+ always has current employee and validation data — ensuring accurate, error-free punches.
By taking advantage of today's modern technology we've made the NXG G2+ easy for you and your employees.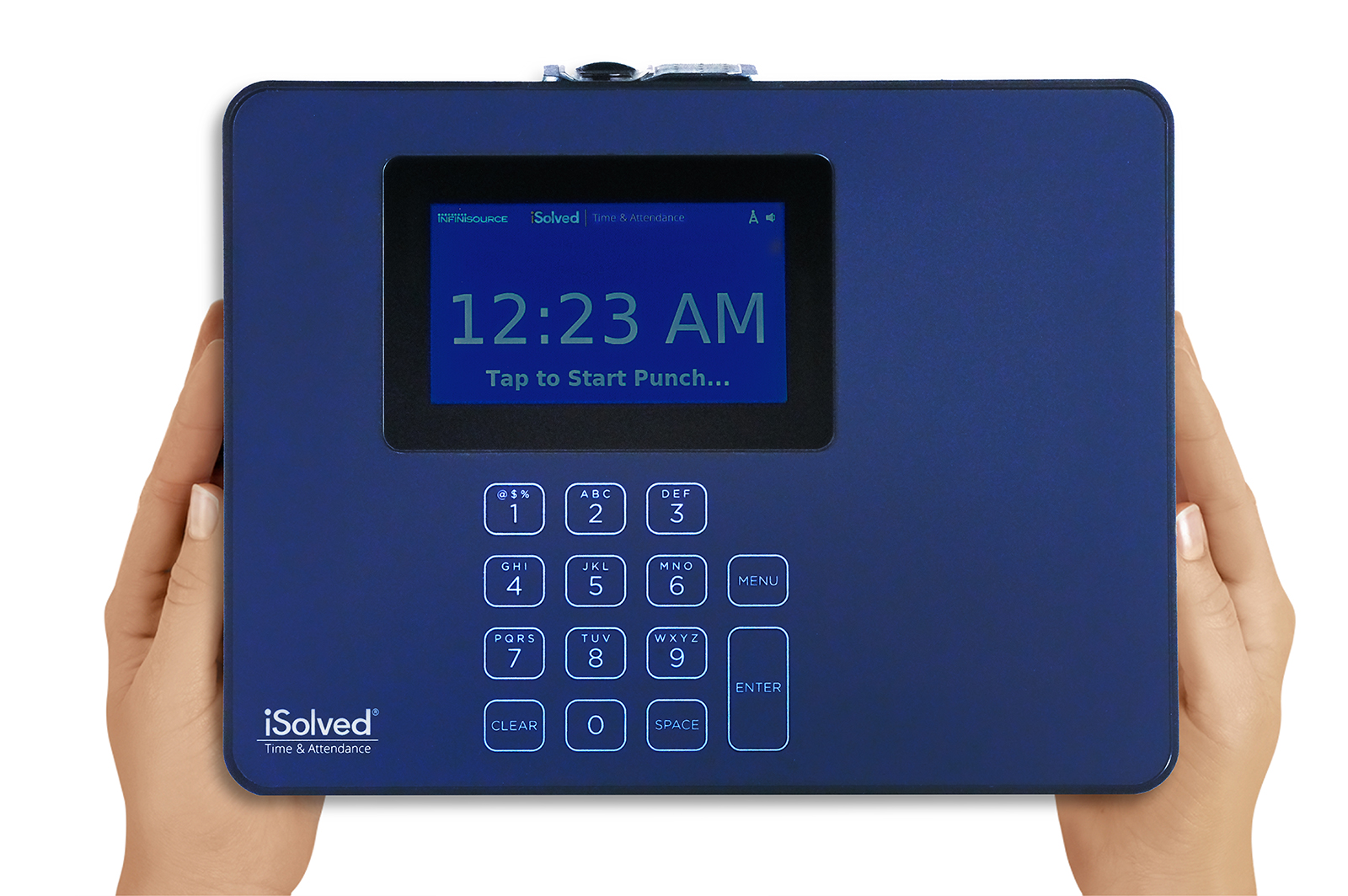 Large Color LCD

Your employees will be instantly familiar with the 4.3 inch touch screen and intuitive interface.

Touch-Only Keypad

A backlit capacitive touch keypad is a unique feature of the NXG G2+.

Multiple Reader Options

Biometric, bar-code, swipe card, or proximity reader.

Visual and Audio Feedback

The G2+ provides visual onscreen notifications and color LED response to your selections.

Punch Screen

Punch in/out for shifts, breaks and meals. Schedule restrictions prevent unauthorized punches.
Clock Specifications
Out of the box, the NXG G2+ is configured to automatically connect to iSolved Time. All you need to do is add the NXG G2+ to your iSolved Time system. Once connected, the NXG G2+ will automatically download its configuration and all validation tables.
The NXG G2+ comes with two USB external ports that can be utilized to enhance your data collection, such as attaching a full size keyboard for entering alphanumeric data, like department names.
Touch Screen
Full Color Capacitive Touch Screen and Backlit Keypad
Biometric Input: Absolutely accurate, no buddy punching
Proximity Cards
Magnetic Swipe Cards
Barcode Cards
Identification mode for biometric option -- Just touch and go, no badge or pin required.
Readers
Optional Biometric (finger) scanner
Identification mode (default)
Proximity Cards
Bar code (3 or 9) or Magnetic badges (tracks 1 or 2)
Proximity (HID 125 KHz (Indala and compatible cards)
HID 13.56 MHz (iClass and compatible cards)
Intuitive User Interface
Intuitive user interface for improved data collection.
Utilizes both screen colors and audio alerts to indicate successful transactions or error conditions.
Capacitive touch keypad
Speaker
Readers
Ethernet, Ceullular and Wifi
Aux. Input: USB Ports (2)
Proximity Cards
Bar code (3 or 9) or Magnetic badges (tracks 1 or 2)
Supports external bar code scanners, external keyboard, flash drives (for transport of punch data to host in case of network failure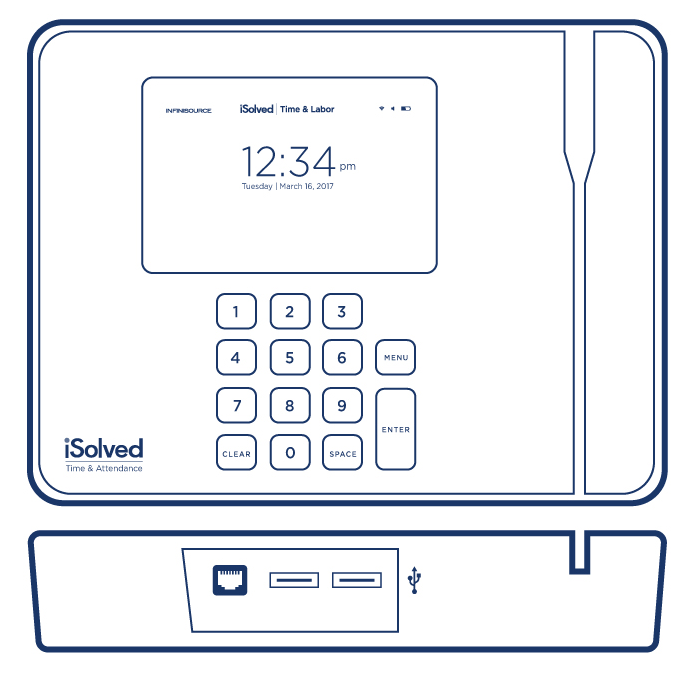 Stay Connected
USB Ports

The NXG G2+ has two USB 2.0 ports with support for external keyboards, scanners and flash drives.

Wifi

When you can't have a wired connection, use a fast wireless wifi connection to communicate.

Ethernet

Fast 10/100MB RJ45 Ethernet port for wired setups.

Ethernet

Optional cellular modem with add on card.
Full Features
Hardware Features
Input Options
Full Color Capacitive Touch Screen and Keypad
Biometric Input : Absolutely accurate, no buddy-punching.
Proximity Cards
Magnetic Stripe Cards
Barcode Cards
Identification Mode for Biometric Option : Just touch and go (no badge or PIN required)
Capabilities
Supervisor Override
Tips/Adjustments
View Schedules
Schedule Lockout
On Demand Capable
Job Transfers
Allows departmental transfers
Offers extended time tracking features such as break and meal buttons
Connection Options
Ethernet
USB Connectivity : Allows connection to a USB Flash Drive.
Cellular Communication
Wireless Ethernet (Wifi) : Connect to your network wirelessly
From time-punch to paycheck, iSolved Time is the solution you've been looking for.