Now, with the release of iSolved Go, industries with on-the-go workers can submit time punches wherever they are and supervisors can track and enforce attendance policies easier than ever before.
Accuracy, Ease, and Convenience
iSolved Go makes tracking accurate time for mobile employees as easy, efficient, and familiar as using an app on their iPhone or Android phone.
Beyond ensuring correct pay for time worked, labor laws have increased the pressure on accuracy of all employee time records. In addition to an increasing number of labor grievances, FLSA, FMLA and of course the Affordable Care Act are just a few regulations that demand precise labor records – even for your mobile employees.
Best of all, iSolved Go integrates with the rest of your time tracking system, giving you another level of convenience. Your employees will be able to modify their work environment, without compromising the accuracy of your records.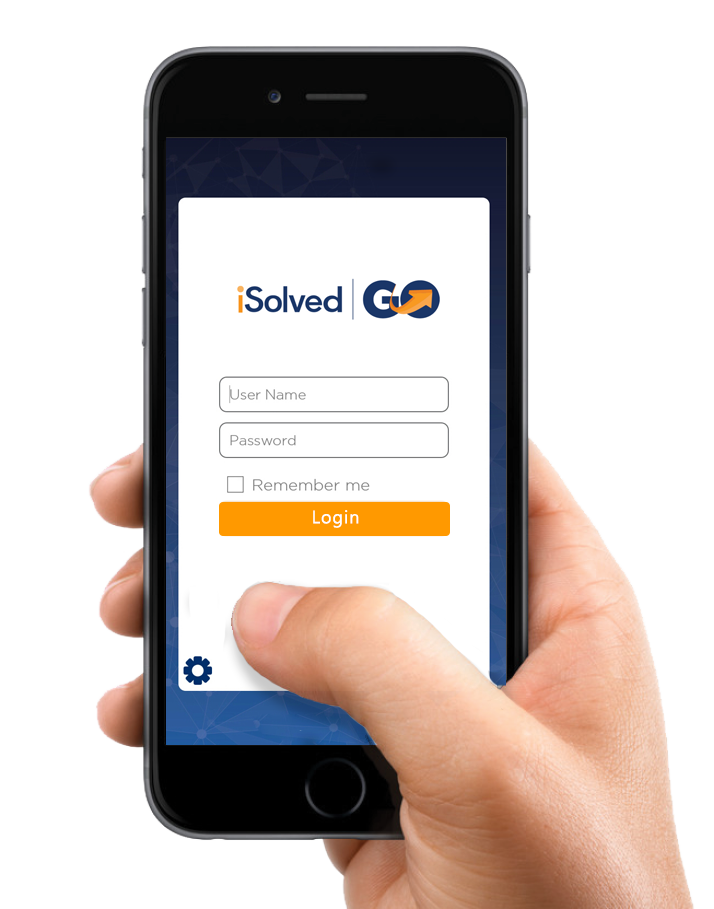 Perfect for Employees on the Go
The new mobile application is ideal for customers that employ carpenters, electricians, landscapers, caterers, home care nurses, drivers and other mobile workers.
iSolved Go uses the phone's native platform, allows for individual and group punches—including department, job, task information and restrictions.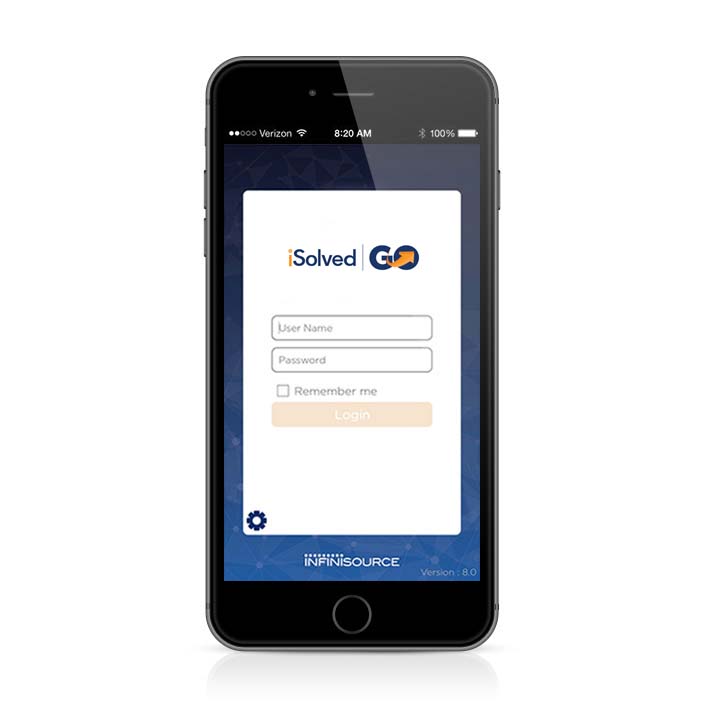 Stored Login
Login directly from your mobile device. iSolved Go will even save your credentials securely.
Mobile Punch
Clock in-and-out from wherever you are.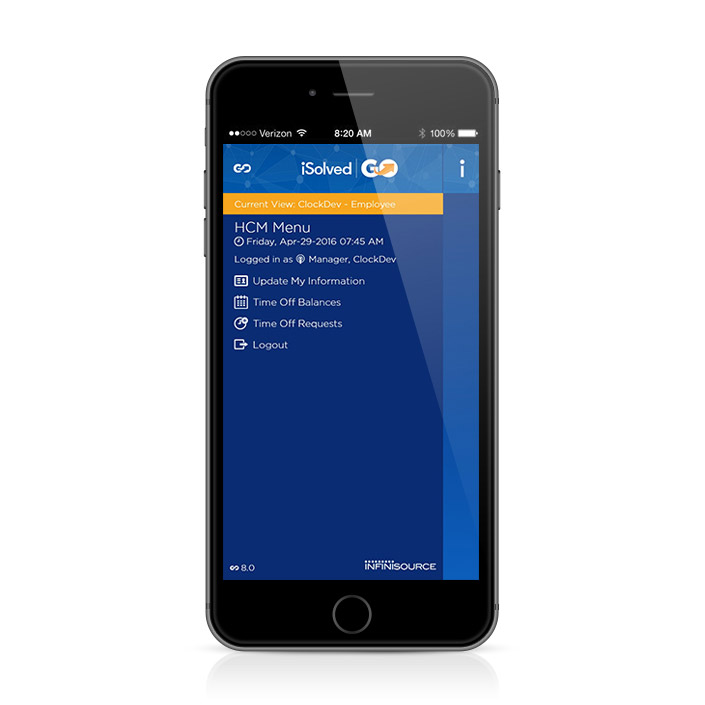 Benefit Accruals
Manage your time off and other benefit accruals.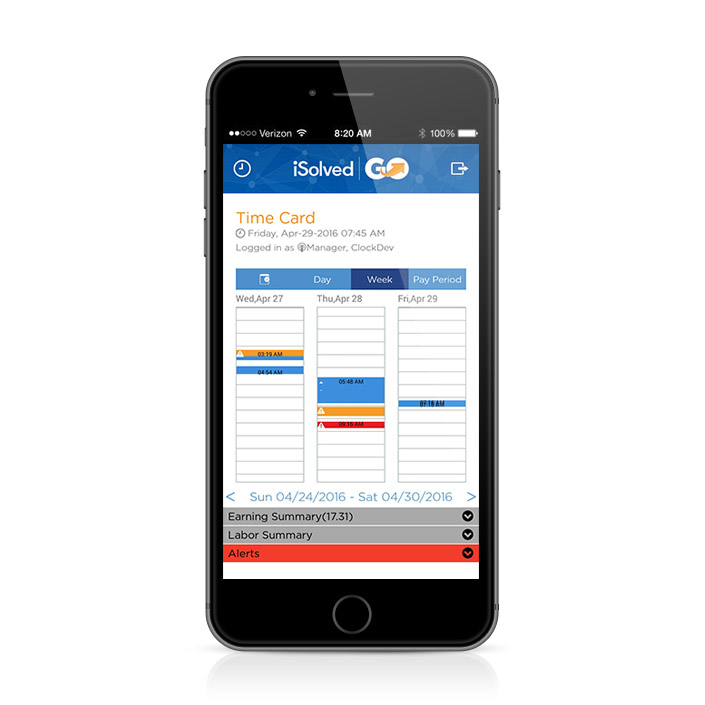 Time Card Screen
Review your schedule and time worked via the time card screen.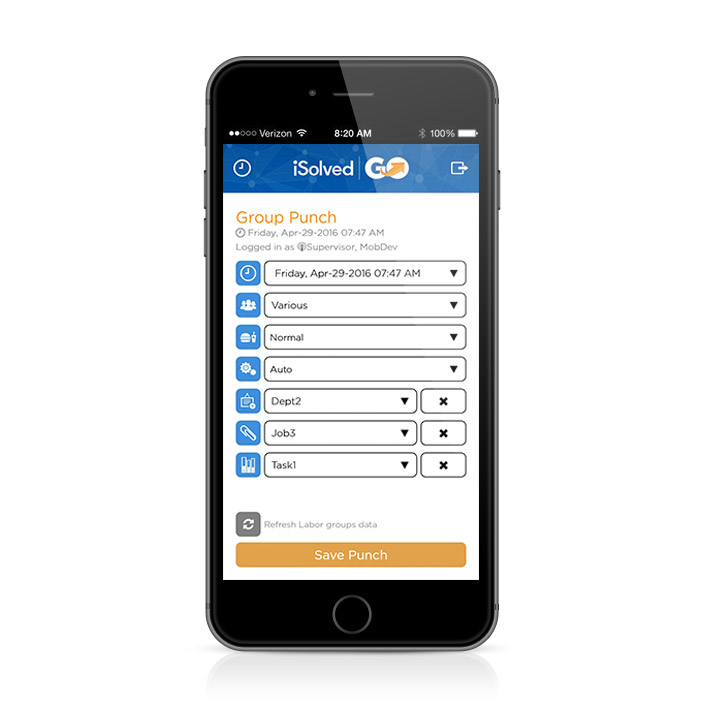 Group Punches
Perform group punches as a supervisor.
iSolved Mobile Versions Comparison
iSolved Go
iSolved Mobile
with TimeForce
Stored Logins
Mobile Punch
Supervisor Group Punch
Department and Jobs
Employee Schedule View
Punch GPS Recording
Offline Punch Storage
View and Download Paystubs
Request Time Off
View Accrual Balances
Update Tax Information
Update Personal Information
Additional Features of
iSolved Go
Full Offline Operation - Make updates to your address and phone number directly from iSolved Mobile.

Centralized Application Configuration - You retain centralized control over the application.

Time Card Verification - Employees can perform time card verification on the go.

GPS Location - If available, the GPS coordinates of the phone are captured and attached to the punch.
From time-punch to paycheck, iSolved Time is the solution you've been looking for.